Chandigarh the only planned city in India, designed by a Swiss architect it was intended as a people-centric city. Every year, thousands of tourists visit the city to check out the best tourist places in Chandigarh. The city played an important role in the history of India. If you are checking out the best places to visit in Chandigarh for Chandigarh sightseeing, hers is a list of the finest places in the city. Make sure you do not miss them out while on your trip to the city.
1. The Rock Garden of Chandigarh
One of the finest creations using nature and natural resources. Simple rocks have been transformed into work of beauty. The place is perfect for a day out with family or friends. Quite an amusement and ample space to relax. The place is one of the finest tourist places in Chandigarh.

Things to do: Sightseeing, photography, picnic.
Location: 1.5 KM from Hotel Mountview
2. Sukhna Lake
The most famous tourist places in Chandigarh. The Lake will be a great place to stroll by in the evening. Music is played during the morning and evening. So, keep your earphones packed and soak all your senses in the beauty of nature!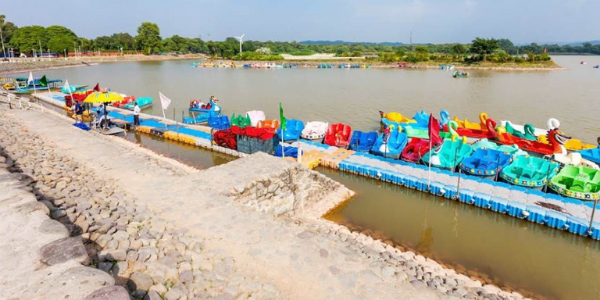 Things to do: Sightseeing, photography, evening walk.
Location: 6.3 KM from Hotel Shivalik View
3. Elante Mall
If you want the best place to shop in Chandigarh and wish to get the latest products from the best brands, there is no better place than the Elante Mall. It is the best shopping mall in the city and boasts of all the major brands and the finest products. The mall is spacious. Escalators and elevators make it easier to check out the various levels.

Things to do: Shopping, eating/dining, movie.
Location: 6.7 KM from Hotel Parkview
4. Timber Trail
Timber Trail is perfect for a small romantic getaway or a trip with the family. You can take it alone as well. The cable car will take you up the hill from where you will get a wonderful view. However, most people are here to go further up and thus this is a small halt. The ticket for the cable car is actually a bit pricey and it's better to carry your own food rather than ordering something here. But, the scenery here and the surrounding quiet atmosphere makes everything worth it.

Things to do: Sightseeing, photography, picnic, cable car ride.
Location: Himalayan Expressway
5. Chandigarh Rose Garden
Did you think that you have seen all about roses there? Well, think again! In Chandigarh, this is an enchanting place and among the best tourist places in Chandigarh. This garden is quite popular among the locals as well. The greenery all around along with the bushes of various types of roses is bliss to watch.

Things to do: Sightseeing, photography, picnic.
Location: 1.5 KM from Hotel Mountview
6. Sukhna Wildlife Sanctuary, Chandigarh
Thus Wildlife Sanctuary is a haven of peace and tranquility that attracts nature enthusiasts, photographers, and picnickers. This protected area of rich flora and fauna is actually a part of the Sukhna Lake catchment and spreads over 2600 hectares. Kansal Gate and Nepali Gate are the only entry points of this sanctuary, which boasts of India's highest average sambar cluster.
The first thing that you need to do is to seek an entry permit from the Conservator of Forests & Chief Wildlife Warden of Chandigarh. Once this is sorted, you just have to pack your essentials for a fun day.
Location: North-East of Sukhna Lake, Chandigarh Read More…