Chandigarh- the city beautiful closed to everyone's heart for many reasons. Chandigarh is not only known for its well-planned architecture but also for cleanliness and greenery. It has many beautiful places to explore like Sukhana lake which is a popular tourist destination. Here you can enjoy boating and scenic beauty, especially during sunset.
Another very popular tourist destination is the Rock Garden. It is famous for a sculpture garden and its beauty. Its designer Nek Chand made different structures with stones, rocks, and scraps in his spare time.  Later on, it became a popular heritage site. It is a must-visit with kids.
Other than these, there is a beautiful rose garden, timber trail, Pinjore garden, and Chatbir zoo which is a common weekend getaway for people from nearby places.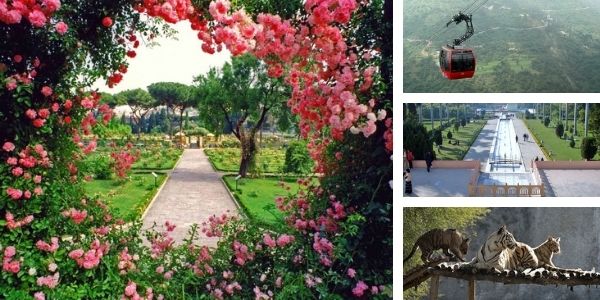 Chandigarh is locally known as 'the city beautiful' is indeed a mesmerizing city situated in the foothills of the Shivalik hills. It's the capital city of both Punjab and Haryana and thus sees an amalgamation of cultures of both the sister states. Chandigarh has its charm whilst being the first planned city of the country. It also catches your attention of being among the cleanest cities of India. Chandigarh very subtly links modernity with a dash of history. Many of these features are yet alien to several Indian cities.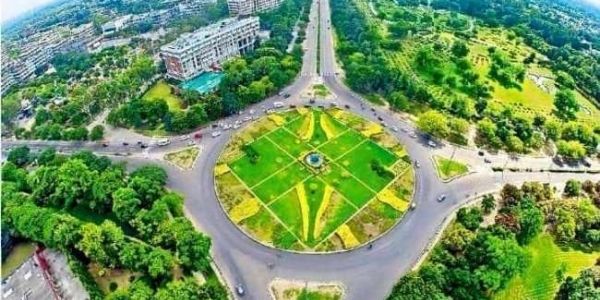 If you like long walks and everything organized or you have a thing with blue skies with mountains in a backdrop sitting on some serene lakeside if you want to see a different India- yes, this one is for you!
Just like any other north Indian city located in the plains Chandigarh, enjoys moderate weather. Summers which start from May, do get pretty harsh by the end of the month and during June. The maximum temperature during this period settles between 37-40° C which makes stepping out for tourists quite an arduous task.
With an average rainfall close to 600 mm during this period, the Monsoon brings great relief for the locals reeling under intense heat. At times this comfort is short-lived due to increasing humidity. Day temperatures range between 28–35 degrees Celsius.
But after a fresh spell of rain, the sight of the city is certainly breathtaking, with green trees and grass having been dusted off with a splash of water.
With a hint of cool air in the atmosphere, this is the perfect time of the year to enjoy the awesome view of the Shivalik from Sukhna lake.
The period starting September till October attracts most tourists as the weather is pleasant throughout the day, with the average maximum temperature settling around 32 degrees Celsius. You can pay a visit if you like it all yellow with maple leaves covering the roads and pavements of the city during this time of the year.
This is when people stay indoors during the early morning and night, venturing outside only around noon. The average day temperature remains in the range of 8-10 degrees Celsius during December, January, and February. Rising to settle around 20° C by the end of March.
Another aspect of the north Indian winter is fog, which creates a major problem in commuting, as visibility drops to a large extent and driving in these conditions becomes extremely dangerous.
Read more blogs CLICK…